Linking up with Mary Kate over at
Why, yes I AM crazy
for some gift giving ideas!
First, please don't show this to my nephews or my daughters. Okay? Okay. We shall proceed.
For the littles, I completely agree with Mary Kate on the fewer, high quality toys, rather than piles of broken garbage in a few months.
Sweet Pea doesn't even know she should be looking forward to these from Catholic Company: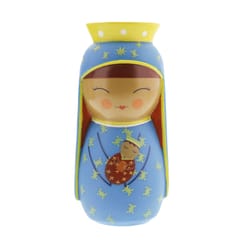 Safety tested for really little ones (0-36 mo)
We bought Sweet Baby a few presents, and they included:
They also had matching
rain boots
and
rain coat
:)
Little Bean is getting quite a few art supplies for Christmas, including these:
We decided as an extended family to buy for our godchildren, so I have two nephews (and a sister who sometimes reads my blog, so that's going to have to remain a mystery for now!)
My younger nephew is 4. I'm sure his parents will appreciate this:
Runs on land or in water - who's ready to go swamp riding?
Don't worry, I bought A LOT of batteries to go with it!
My older godson is really into fluffy things. Very fluffy things. And warmth. He always wants to be warm and fluffy, preferably while playing video games or watching tv, I'm sure :)
This is a Korean blanket. One of my favorite people in the world is half Korean. She got me a Korean blanket for Christmas about 15 years ago. I still love it. She bought my husband one when we were first married and she bought Little Bean one when she was a baby......Sweet Pea waits patiently =D Anyway, we're a fan of these soft, supple blankets at our house.
So much so, that this is one of the gifts I am most excited to give this Christmas :)
I also recommend purchasing candy you like for the stockings:
AAANNNNNND! Something every single person with a little girl should know about:
Halo Heaven
. Seriously. Go there! Follow them on twitter, give them your email address, they send out crazy good coupons. I am in no way affiliated with them, I just heart them so much, they should send me gift cards....but it's so inexpensive, I don't really need them. You shouldn't even be reading anymore, go get this stuff:
$0.75 Butterfly hair clip - stocking stuffer alert!
Why yes, you did read that right, $4.25 BEFORE any coupon codes!
Leg warmers for $3!
They have girl and doll sizes!
The coupon code running right now is HOLLY30 for 30% off. There's so much more to see, including bow ties for boys, pet accessories, stuff that fits American Girl sized dolls, and more hair bows than you'd know what to do with - happy shopping!