It's Wednesday, and that means it's time to check and see if I'm still literate:
Back in June, I saw Jim Gaffigan on one of the morning news shows talking about his new book,
Dad is Fat
. Since he's a comedian I find pretty funny, I mean c'mon, Hot Pocket, I went on our good old library website and placed a hold on his book. There were 15-20 copies in the system, so I thought it wouldn't take too long to get a copy....a few weeks TOPS.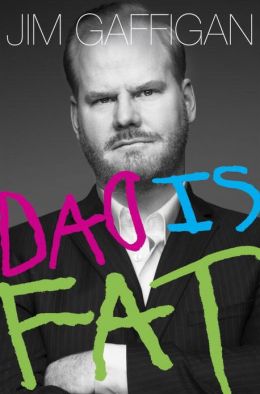 It was finally my turn Saturday (yes, it's October), so I was excited to FINALLY check out a book that's gotten pretty good reviews.
First, let me say, I've watched Jim Gaffigan's specials on Netflix...including Mr. Universe. It seems like a lot of the material in the book matches up with that content, so in some places, I was a little disappointed, like, "oh I already heard that joke!" That being said, some of the jokes made me laugh harder the second time, and there were plenty of new, funny observations thrown in.
If you haven't seen Mr. Universe, this book is going to be one of the most hysterical things you've ever read. If you have seen Mr. Universe, you're still going to get good laughs.
More than the good laughs, this was such a great insight into his life. In a way that comes across as open and welcoming, he shares a lot of truth. It IS inappropriate when people make comments on your family size and dogs AREN'T equivalent to children or "practice children", as he said, I've never been allowed to kennel my children for vacation or leave them home in a cage all day.
I also loved how kindly he spoke of his wife and his admiration and dedication to her is so evident, even among his quips about her "super fertility". All in all, a great read, and a voice I'm glad to hear speaking for bigger families. I especially loved when he said the reason to NOT have another one wasn't there, so that's WHY another one would be in the realm of possibility.
Overall, this book was an interesting insight into the guy behind the laughs. The pictures of his family were very sweet, even the one with the blurred out babysitter who quit right after a trip :)
If you want a laugh, read it. If you're curious about a successful Catholic comedian in this day and age, read it. If you want to laugh about the unique situations of a large family in a small space, read it. Pretty much, you should just read it.
Check out more book reviews at
Housewife Spice
!